Dr. Frank Roach is an experienced dentist with over two decades of professional practice using the latest technological advancements available to the industry. To ensure his clients receive only the most effective procedures and products on the market, he uses BioHorizon implants.
Since 1998, Dr. Frank Roach has delivered dedicated dental care and practical solutions for clients in his Atlanta offices. He strives to employ only the latest breakthroughs in dentistry so his patients receive satisfying results without discomfort or worry over unsuccessful procedures. By keeping up with tech advances, Dr. Frank Roach exceeds expectations and delivers unparalleled results again and again.
"Technology has come a long way in a short time, affecting everything from our materials and procedures to our scanning systems," says Dr. Frank Roach. "This allows dentists to provide long-lasting solutions and treat teeth thoroughly without discomfort for the patient."
At his offices, Dr. Frank Roach uses high tech like the CEREC Omnicam, which takes precise 3D scans in minutes without the need for molds. Being that he only wants the best, Dr. Frank Roach chose Biohorizons after trying many different implant systems.
BioHorizons is dedicated to the ultimate customer service as well as efficiency and the pursuit of excellence and integrity. Following suit, their product is an innovative solution to implants and tissue regeneration products. Dedicated to their commitment to excellence, all the products they offer are based solely on evidence-based, scientifically-proven solutions.
The company has roots all the way back to 1994 when the original Maestro implant design (that's now become famous) was first created in the biomedical engineering department at the University of Alabama in Birmingham. Since then, the company has consistently applied biomedical engineering to a variety of product innovations. Today, BioHorizons is the proud owner of 24 unique patent awards, delivering a range of unparalleled dentistry products.
As for materials, all BioHorizons implants are made from ultra-durable titanium alloy, which is measured at 1.5 to 3.5 times stronger than pure titanium implants common at other companies. This upgrade in durability ultimately affects the long-term success of an implant, and it is especially useful for small diameter implants which are more prone to cracking, chipping, or breaking.
Dr. Frank Roach employs BioHorizons implants because of their strength as well as the unique fit of their sizes. The various parts they produce feature tight machine tolerances which ensures that dentists provide a positive surgical & restorative experience. In addition, each of the BioHorizon products (implants and prosthetics) are color-coded and are easily identifiable dentists. This makes it easier to determine implant types already inside the mouth of in-office patients.
"It's revolutionary what BioHorizons has created, and their products are an incredible help to both patients and me in terms of ease, comfort, and durability," says Dr. Frank Roach.
Dr. Frank Roach is recognized for his superb dentistry, his genuine concern for his patients' well-being, and his focus on using the latest tech in the industry. In line with these beliefs, he provides the revolutionary "All-on-Four" procedure to restore patients' confidence and give them a lasting set of permanent teeth.
Dr. Frank Roach has practiced dentistry since 1998 and has kept up with evolving trends in technology to provide his patients the best care available. He's avid about using only the most sophisticated and effective tools in the industry, and provides All-on-Four as a practical solution for many of his patients' needs. Most patients don't want to take dentures in and out every day. After the procedure, they have the perfect smile.
"The All-on-Four procedure is a one day appointment and patients don't feel any discomfort because they're under general anesthesia during it," says Dr. Frank Roach. "It's a great solution that never fails to exceed patient expectations, both immediately and years later. Each case is methodically designed to produce the perfect smile."
Procedures can be completed in a single day so that patients can go on about their lives without extensive downtime or recovery. It's an excellent option for patients with missing teeth, those who have poorly-fitting dentures, and those who have periodontal disease. Certain patients who face limited options due to bone loss may actually be ideal candidates for All-on-Four implants. Even patients who think their mouths are hopeless often find they are excellent candidates.
As a graftless solution, the procedure provides patients with a fixed full-arch prosthesis post-surgery using titanium implants that will last a lifetime. Dentists like Dr. Frank Roach first invite patients in for a quick scan (in his case, using state-of-the-art machinery like the CEREC Omnicam) to get precise measurements and placement for the implants. The procedure is quick and painless, and Dr. Frank Roach will administer pain reliever while patients are under so that they experience complete comfort when waking.
"It's a revolutionary procedure that allows dentists to relieve a lot of everyday pain, discomfort, and burden from false or missing teeth," says Dr. Frank Roach. "And the quality material ensures that patients never have to worry about their new teeth shifting or falling into disrepair over time. It is truly a game changer for so many patients."
By getting this procedure, patients receive a lifelong solution that looks and feels natural. The fixed full-arch prosthesis functions with ease and is cleared for use the next day after completing the procedure. While producing dramatic results that boost self-esteem and provide real relief, the All-on-Four procedure is also one of the quickest dental solutions to getting the perfect smile. Traditional alternatives include dental implants with six to ten attachments, compared to the four strong implants of All-on-Four.
"I highly recommend All-on-Four procedures to my clients as they tend to be the most affordable and most appropriate solution to many of their needs," says Dr. Frank Roach. "Because it's such a quick, painless process, there's really not much more you could ask of a single procedure."
Dr. Frank Roach strives to offer his patients only the latest in technological breakthroughs that deliver thorough and satisfying results without discomfort. Stocking his offices with devices like the CEREC Omnicam, which allows him to take precise 3D scans, Dr. Frank Roach more accurately addresses dental health and provides tailored solutions.
Dr. Frank Roach has been a practicing dentist since 1998, allowing him to work alongside the growing number of dentistry technology and determine the most useful devices. He's dedicated to providing the best care to his patients by implementing only the top techniques, materials, staff, and technology available. By staying at the forefront of tech advances, Dr. Frank Roach exceed expectations and delivers unparalleled results.
"Technology has come a long way in the past 20 years since I've practiced dentistry," says Dr. Frank Roach. "We aren't restricted to X-ray devices and models anymore and can employ more accurate technology like the CEREC Omnicam to get precise readings."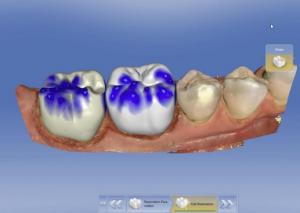 The CEREC Omnicam offers powder-free scanning of patients' jawlines to produce precise 3D scans in natural color. The Omnicam device offers unrivaled handling thanks to its sleek design and lightweight, as well as an ergonomic design that fits comfortably in-hand. The scanning process is easier and more intuitive than ever and allows dentists to scan teeth with sophisticated CEREC software to expand the treatments spectrum to broader applications (such as aligner treatment).
The device allows dentists to take coating- and powder-free scans of patients' teeth, which is ultimately far more comfortable to the patient and saves professionals an extra work step. Instead of relying on a traditional impression trays, the CEREC Omnicam uses a powerful camera to map out comprehensive 3D scans in color.
Not only more comfortable for the patient, health professionals such as Dr. Frank Roach benefit from the ergonomic and compact design of the Omnicam. The unique camera makes the difficult process of scanning posterior teeth easy and quick and allows dentists to scan upper and lower jaws without adjusting their natural working posture–regardless if the patient sits upright or reclines.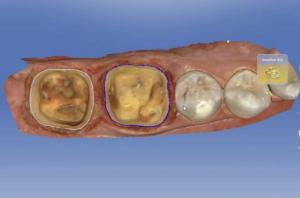 "Before the Omnicam, dentists required patients to bite down on impression trays," says Dr. Frank Roach, "but today performing scans is as easy as shining a light into a patient's mouth. The process is seamless and doesn't require anything extraneous from dentists or patients."
CEREC Omnicam allows informative scanning with a pass of the device's camera, which pairs up with the accompanying CEREC software to automate the designing process and make it more precise. The "guided scanning" feature makes digital impressions of the entire jaw quickly. The entire process is user-friendly, and the simple handling means impressions can be performed by an assistant if needed.
"The engineers at CEREC have a created a highly-efficient and compact product that benefits everyone involved," says Dr. Frank Roach, "professionals and patients alike."